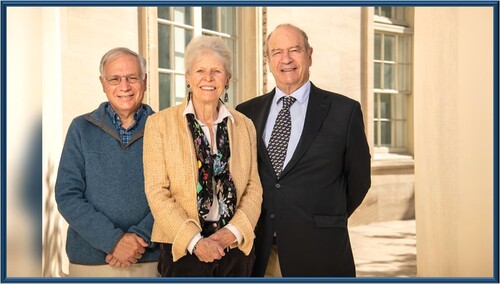 MB&B faculty members Daniel DiMaio, PhD, Joan Steitz, PhD, and I. George Miller, Jr., MD, headed Yale's longest running basic science grant. After 45 years and nearly 500 resulting publications, the grant's current leaders are choosing not to apply for renewal. In an interview with Yale Cancer Center, Dr. DiMaio – principal investigator on the grant for the past 25 years – noted "it's time to let a new generation take over."
Titled "Molecular Basis of Cancer Virus Replication, Transformation, and Innate Defense," the grant is the third longest running project grant funded by the NIH, and the longest at Yale. It seeks to understand how viral genes and related pathways induce cancer and evade normal cellular growth check points. During its lifespan, the grant provided over $50 million in funding to faculty across the Yale School of Medicine.
                Some of the grant's achievements include early discoveries on SV40 virus genetics by Sherman Weissman, MD, Sterling Professor of Genetics; development of fluorescence in situ hybridization (FISH) to map chromosomes by former faculty David C. Ward, PhD; Dr. Steitz' discovery and characterization of viral small noncoding RNAs; and Dr. DiMaio's research on viral oncogenes and viral entry in host cells. Importantly, Dr. Miller was the first to show that viruses can cause cancers in primates when he found that the human Epstein-Barr Virus (EBV) caused lymphomas in monkeys. It is now known that viruses cause approximately 15% of all human cancers.
 The grant provided training to hundreds of graduate and post-doctoral students since it was first awarded in 1975. In his interview with Yale Cancer Center, Dr. DiMaio said that collaboration was key to the triumphs of the grant's productivity: "We're not working in isolation; we helped each other and molded each other's careers."
By Brigitte Naughton