THE UNDERGRADUATE PROGRAM JUST MADE A LARGE CHANGE TO THE MAJOR (INCLUDING CONCENTRATIONS).  PLEASE SEE THE DOCUMENT HERE FOR MORE DETAILS.
THE WEBSITE WILL BE UPDATED SHORTLY.
For concentrations, HERE is a file that you can use to customize any of our concentrations for yourself.
The undergraduate programs offered by the department of Molecular Biophysics & Biochemistry (MB&B) are for students interested in not only what life is, but also in how it works. We seek to understand life at a mechanistic level by studying how the extraordinarily complex molecules found in living organisms create structures, carry out chemistry, and store and utilize information to generate the remarkable properties of living organisms. Biochemistry and biophysics are rapidly advancing areas of science that underlie the current dramatic progress in medicine.  
Our undergraduate degree programs are well suited for students planning to attend medical school or graduate studies in biochemistry, molecular biology, genetics, genomics, or biophysics. The MB&B major differs from the programs offered by the Molecular, Cellular, and Developmental Biology (MCDB) department in that MB&B places its central focus on studying biology using the tools of chemistry, physics, and biochemistry. MB&B students thus carry out more in-depth coursework in these areas, and typically take less coursework in other areas such as organismal biology, cell biology, and genetics.
MB&B has found that undergraduates have a lot of questions about what is involved in pursuing the MB&B major.  To address this, we have put together some "quick facts" about MB&B.   The intent is to answer some commonly asked questions and provide central features each potential major will want to know.    MBB Quick Facts
Roadmap of our Major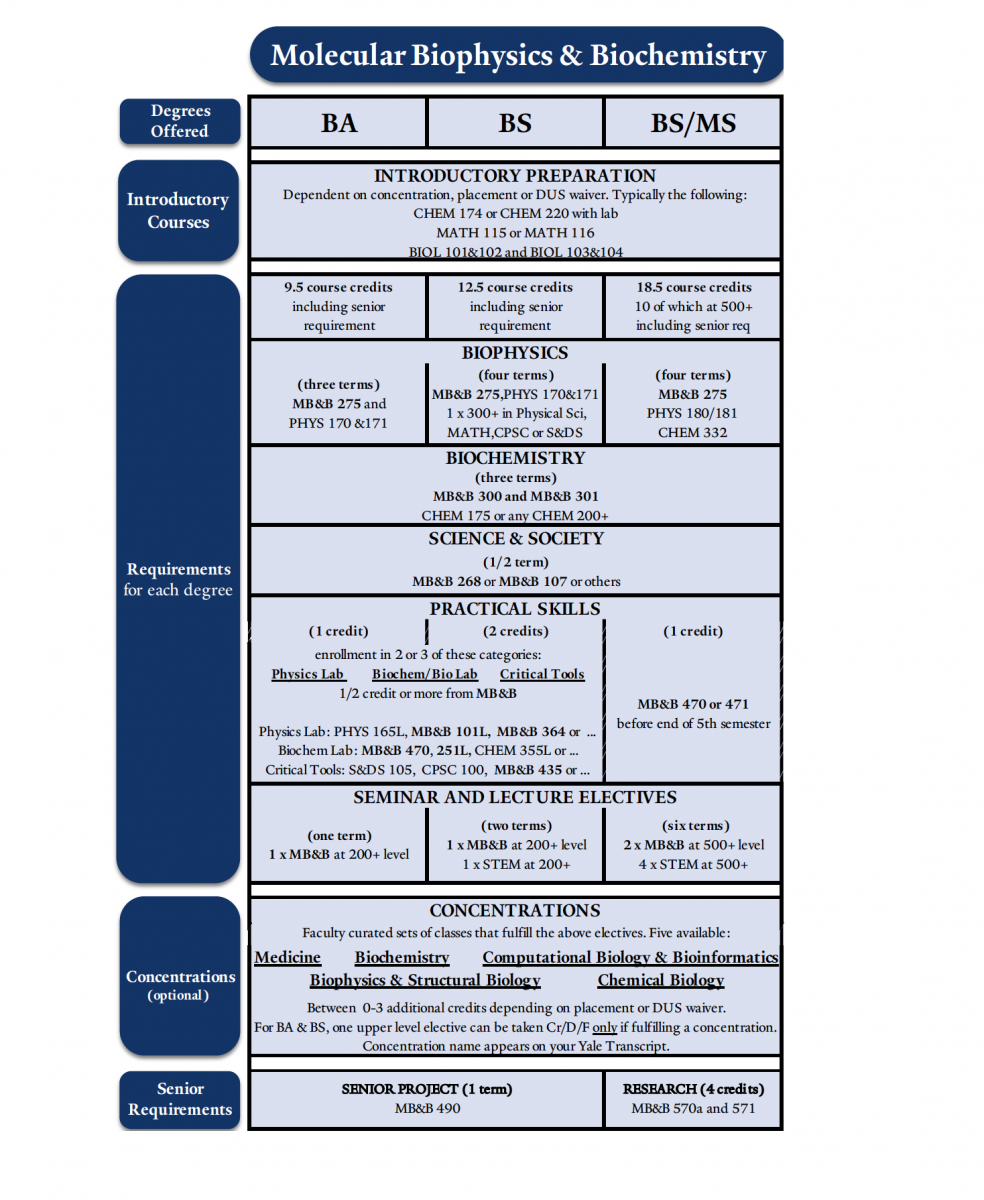 First Year Majors:
acquire a broad foundation in chemistry, mathematics, physics, and biology
Second Year & Junior Year Majors:
focus on molecular biology and biophysics
Fourth Year Majors:
choose among a wide range of opportunities
conduct independent research projects
take courses at the Graduate School or the Medical School or advanced elective classes at Yale College 
Of the seniors majoring in MB&B each year, about two-thirds go to medical school. Of the other third, some enter graduate school, and others seek employment in university labs or in the biotechnology industry. Our alumni include many distinguished leaders in science and medicine. 
Professor Andrew Miranker
Director of Undergraduate Studies 
email: MBBUndergrad@yale.edu
Undergraduate Registrar
Elizabeth Vellali 
Yale University 
Department of Molecular Biophysics & Biochemistry 
266 Whitney Avenue
BASS 334
New Haven, CT 06511
phone: (203) 432-2172
email: MBBUndergrad@yale.edu