For class of 2026 and beyond. Earlier class years are encouraged to opt-in. 
Alternatively, students may use the descriptions specific to their class year
(http://catalog.yale.edu/ycps)
In lieu of the usual handbook, we have compiled all the changes to the major that can  be found here.
MB&B on one page
Members of the Department of Molecular Biophysics and Biochemistry (MB&B) are united by a common view that processes in biology are understood when molecular, chemical, kinetic and thermodynamic contributions to mechanisms have been elucidated. Correspondingly, our faculty and students are joined by a shared fascination with biochemistry, physical chemistry, structural biology, computation, spectroscopy, macromolecular engineering, imaging and the molecular basis of disease.
The core elements of our discipline are:
Biophysics 3 credits for BA, 4 credits for BS and BS/MS
Biochemistry 3 credits
Science & Society 1/2 credit
Additional requirements in MB&B serve to:
● support the core elements as prerequisites or accompanying labs
● teach advanced topics that make use of these underpinnings
● teach the technology that enables scholarship in our discipline
● give opportunity to seniors to demonstrate mastery of the discipline in writing
Practical Skills 1 credit for BA, 2 credits for BS and 1 for BS/MS
Electives 1 credit for BA, 2 credits for BS and 6 for BS/MS
Senior Thesis 1 credit for BA and BS, 4 for BS/MS
Three quarters of MB&B graduates matriculate into PhD, MD and MD/PhD programs. Other recent graduates have joined companies specializing in finance, management consulting, biotechnology and pharma. Others have matriculated in law or business school and doctoral programs in the humanities. Still others have performed 1-2 years of public service, entered secondary education or joined the US armed forces as officers. To directly engage students' interests and career goals, several concentrations are available to students. In MB&B, concentrations are named sets of electives, curated by the faculty, that count towards our elective requirements and appear on your official Yale transcript. MB&B students may concentrate in Biophysics and Structural Biology, Chemical Biology, Computational Biology, Medicine or Molecular Biochemistry.
For more information on the concentrations, here is a file that you can use to customize any of our concentrations for yourself.
The undergraduate programs offered by the department of Molecular Biophysics & Biochemistry (MB&B) are for students interested in not only what life is, but also in how it works. We seek to understand life at a mechanistic level by studying how the extraordinarily complex molecules found in living organisms create structures, carry out chemistry, and store and utilize information to generate the remarkable properties of living organisms. Biochemistry and biophysics are rapidly advancing areas of science that underlie the current dramatic progress in medicine.  
Our undergraduate degree programs are well suited for students planning to attend medical school or graduate studies in biochemistry, molecular biology, genetics, genomics, or biophysics. The MB&B major differs from the programs offered by the Molecular, Cellular, and Developmental Biology (MCDB) department in that MB&B places its central focus on studying biology using the tools of chemistry, physics, and biochemistry. MB&B students thus carry out more in-depth coursework in these areas, and typically take less coursework in other areas such as organismal biology, cell biology, and genetics.
Roadmap of our Major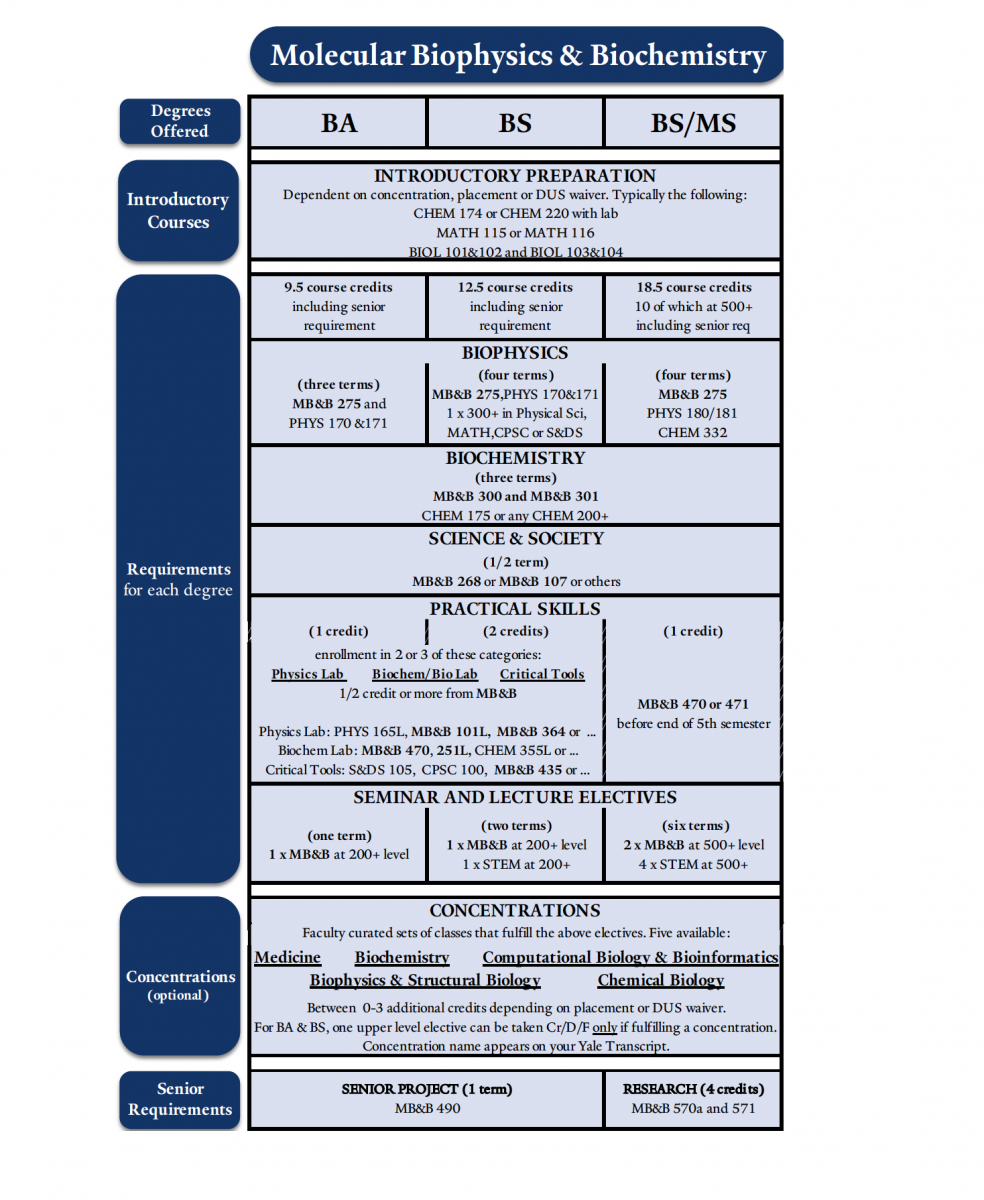 First Year Majors:
acquire a broad foundation in chemistry, mathematics, physics, and biology
Second Year & Junior Year Majors:
focus on molecular biology and biophysics
Fourth Year Majors:
choose among a wide range of opportunities
conduct independent research projects
take courses at the Graduate School or the Medical School or advanced elective classes at Yale College 
Of the seniors majoring in MB&B each year, about two-thirds go to medical school. Of the other third, some enter graduate school, and others seek employment in university labs or in the biotechnology industry. Our alumni include many distinguished leaders in science and medicine. 
Professor Andrew Miranker
Director of Undergraduate Studies 
email: MBBUndergrad@yale.edu
Undergraduate Registrar
Elizabeth Vellali 
Yale University 
Department of Molecular Biophysics & Biochemistry 
266 Whitney Avenue
BASS 334
New Haven, CT 06511
phone: (203) 432-2172
email: MBBUndergrad@yale.edu