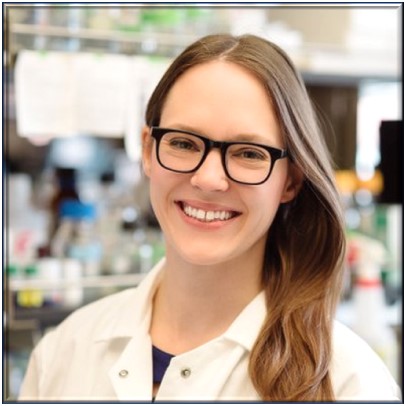 Congratulations to Allison Didychuk, PhD, for receiving the Damon Runyon-Dale F. Frey award for Breakthrough Scientists. Dr. Didychuk is the newest Assistant Professor in MB&B and will be officially joining our department on July 1, 2022.
The Dale Frey Award is one of the many awards and fellowships given out by the Damon Runyon Cancer Research Foundation. Thirteen postdoctoral scientists conducting basic and translational cancer research were named as the newest cohort of the Damon Runyon Fellows. Additionally, the committee selected six recipients, one of them being Dr. Didychuk, to receive the Damon Runyon-Dale F. Frey award for Breakthrough Scientists- an award given to the Damon Runyon Fellows who exceeds the Foundation's highest expectations and are most likely to make paradigm-shifting discoveries in cancer research. Along with the funding that comes with being a Damon Runyon Fellow, Dr. Didychuk will receive an additional $100,000 from the award for Breakthrough Scientists. With this Fellowship, Dr. Didychuk will be provided with independent funding to start innovative projects in her new lab.
Dr. Didychuk obtained her PhD in Biophysics from the University of Wisconsin-Madison and is finishing her postdoctoral fellowship in the Glaunsinger Lab at UC Berkeley. Currently, Dr. Didychuk studies viral mimics of host transcription factors in oncogenic herpesviruses. Specifically, she is interested in herpesviruses such as Kaposi's sarcoma herpesvirus (KSHV) and Epstein-Barr Virus (EBV), both of which are causative agents for various cancers. Dr. Didychuk's research focuses on understanding the mechanisms KSHV uses to co-opt the cellular host's molecular machinery to create its own gene products in a unique manner which is distinct from other viruses and host cells. Understanding this  co-opting of late gene transcription machinery can reveal therapeutic weaknesses in the viral lifecycle and open the door for new anti-viral drug targets.
Receiving the Damon Runyon-Dale F. Frey award for Breakthrough Scientists will help Dr. Didychuk establish her lab at Yale and push her cutting-edge research forward. Congratulations again to Dr. Didychuk- we can't wait to have you in our department!
By Jake Thrasher