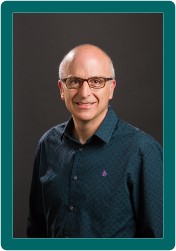 Andrew Miranker, PhD, was selected as an inaugural recipient of the Yale Faculty of Arts and Science Dean's Award for Inclusion and Belonging. This new annual award identifies up to four faculty who have significantly contributed to creating and sustaining a climate of inclusion and belonging at Yale. In the Dean's words, "They are exceptional university citizens who bring compassion to their work with faculty, students, and staff". Miranker was nominated by colleagues in FAS to receive the honor, citing him as "a prime example of how members of majority groups can lead critical DEI initiatives that improve institutional culture and climate."
Andrew's efforts are exemplified by his co-development of the "Being Human in STEM" course, which focuses on sociological research and lived experience throughout all areas of science. Project-based course elements encourage students to develop practical approaches to directly engage issues of racism and equity in STEM. Advocacy for the course by Andrew and colleagues from Amherst and Brown has resulted in variations of "Being Human in STEM" now being taught at nearly 20 undergraduate institutions.
Last year, as MB&B's Director of Undergraduate Studies, Andrew worked with students and Professor Lilian Kabeche to lead MB&B faculty in the invention and adoption of a new requirement and coursework for the MB&B major at the interface of identity and society with STEM. As Andrew writes in MB&B's formal petition for this change to Yale college:
"This new requirement formalizes the faculty's view that the intersection of Molecular Biophysics & Biochemistry with human identity and society is critically important to the training of the next generation. Matters of personal and group identity underpin the history of our discipline's development, the lived experience of our field's practitioners, the achievement of excellence by diverse cultures co-working in our labs and the interaction of ourselves and graduates with the public in its secondary schools, businesses, hospitals and government."            
Most recently, Professor Miranker's leadership enabled an MB&B faculty-search team, including MB&B professors Franziska Bleichert, Donald Engelman and Wendy Gilbert as well as many undergraduates, graduate students, postdocs and staff to transform inclusive practice in faculty recruiting. This is a new path forward for hiring in MB&B that has garnered attention from other Yale departments as well as outside institutions.
The award acknowledged that Miranker's sustained efforts on inclusion and belonging have made a substantial difference in the greater community toward equity and diversity. He is recognized as an FAS member who regularly advocates for diversity, equity, and inclusion on campus-wide issues.