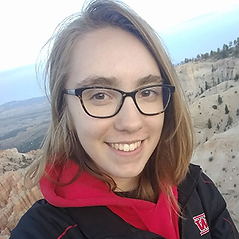 MB&B Graduate Student Olivia Hunker was recently awarded an F31 fellowship for Structural studies of metazoan origin licensing.
The project is described as "The inhibition of DNA replication initiation is a promising new strategy for cancer therapies, but more research is needed to fully understand mechanisms of replication initiation in metazoans. This project seeks to understand how higher eukaryotes load the replicative helicase Mcm2-7 onto DNA replication origins, and how this process is inhibited by small molecules. This study will provide a greater understanding of molecular mechanisms of DNA replication initiation in higher eukaryotes, which will identify new drug targets and assist in the development of improved DNA replication initiation inhibitors." The results of this research is anticipated to contribute to the long-term goal of developing origin licensing inhibitors as a new class of cancer drugs.
Please join us in congratulating Olivia on this major funding accomplishment!