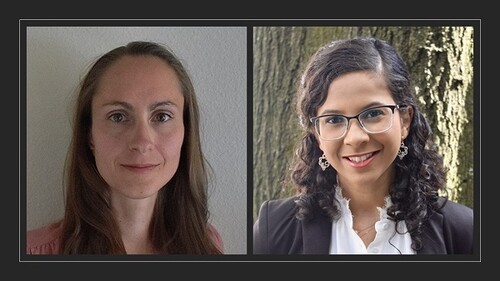 It is with great pride and excitement that I announce the two winners of this year's MB&B Mary Ellen Jones Dissertation Prize: Martha Braun and Nicolle Rosa Mercado.
The Mary Ellen Jones Dissertation Prize is awarded to recognize the most distinguished dissertation in Molecular Biophysics & Biochemistry submitted during the academic year. Mary Ellen Jones received her Ph.D. from Yale's Biochemistry Department in 1951 working in the lab of Joseph Fruton. She devoted her career to studying enzymes involved in amino acid and nucleic acid metabolism. Working in an era when it was difficult for women to advance she was frequently the pathbreaker, including serving as the first woman to chair a department at the University of North Carolina at Chapel Hill Medical School, where she spent most of her career. Mary Ellen Jones was the recipient of many prizes including the Graduate School's Wilbur Cross Medal and election to the National Academy of Sciences. See here for a more detailed biography.
Martha's work centered on FisB mediated membrane fission during sporulation in Bacillus subtilis.  Membrane fission is essential for life. However, little is known about it in bacteria, one of the most abundant organisms on earth. Martha discovered that the protein FisB exploits the unique geometry of the sporulating bacterium and self-oligomerization for localizing to the membrane fission site. Martha proposed a working model that membrane fission is achieved by friction between the FisB network and the underlying membrane.
Nicolle focused on understanding how human cells modify their transcriptional programs in response to hyperosmotic stress. Specifically, Nicolle studied the molecular mechanisms leading to the production of stress-induced readthrough transcripts called DoGs (downstream-of-gene containing transcripts). Her work revealed that hyperosmotic stress leads to widespread transcriptional repression and suggests that the Integrator complex regulates the production of a subset of DoGs.
Again, I welcome you all to celebrate the momentous scientific achievements of Martha and Nicolle with me. Congratulations!
By: Karla Neugebauer
Director of Graduate Studies