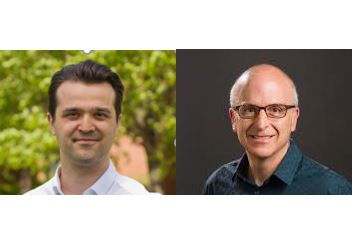 By Lisa Ogawa McLean:  Congratulations to Drs. Andrew Miranker and John Deacon for being awarded funding from the Blavatnik Fund for Innovation at Yale. On May 8th at the Yale Innovation Summit, presented through the Office of Cooperative Research (OCR), eight investigators were announced for this year's award. Winners will receive up to $300,000 in grant funding towards the development and commercialization of their technology that began back in October with an application including a pitch deck. From the application, semi-finalists were selected to pitch their proposals at the Yale Lifesciences Pitchfest.  Finalists were then selected from the pool of 31 applicants to pitch to an advisory board of experienced biotech investors.
John Deacon, PhD, is an Associate Research Scientist in Don Engelman's lab in Molecular Biophysics and Biochemistry, and Founder and President of Cystosolix, Deacon's wining proposal was titled "Cytosolix - Improving Small Molecule Therapy Through Targeted Drug Delivery To Solid Tumors," wherein he proposed the targeted delivery of chemotherapeutics to solid tumors through his Tumor Activated Permeability (TAP) Therapy platform. The TAP Therapy platform is compatible with 90% of small molecule drugs, can be taken orally, and has shown safer and more effective treatment in tested cancers. In addition, at the Summit, Deacon took home 3rd place and $2,500 in the Biotech Pitch Contest. Deacon also previously won the best presentation at the Pitchfest in December.
Andrew Miranker, PhD, is Professor of Molecular Biophysics and Biochemistry, and of Chemical and Environmental Engineering. Miranker's winning proposal was titled "Wrangling Rogue Proteins," where he proposed to treat protein-aggregation disease through his ADM Therapeutics platform. The therapeutic is water-soluble, non-toxic, and membrane permeable, and specifically designed to disrupt protein assemblies to treat disease and prevent cell death. The lead application for his platform is in the treatment of diabetes where the hormone islet amyloid polypeptide (IAPP) has been observed to form toxic, rogue assemblies that disrupt cell membranes. This is the second time Miranker has been a Blavatnik awardee; he was awarded a pilot grant from the Blavatnik Fund for Innovation at Yale in 2017.
Congratulations to Drs. Deacon and Miranker and to all of the awardees and participants in this year's competition!