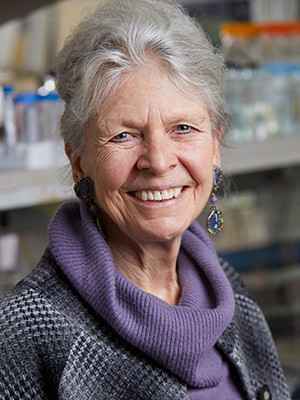 Joan A. Steitz, PhD, Sterling Professor of Molecular Biophysics and Biochemistry, and a Howard Hughes Medical Institute investigator, received a 2021 Warren Alpert Foundation Prize. The foundation selects recipients "whose scientific achievements have led to the prevention, cure or treatment of human diseases or disorders, and/or whose research constitutes a seminal scientific finding that holds great promise of ultimately changing our understanding of or ability to treat disease."
Steitz was awarded the prize alongside Lynne E. Maquat, PhD, from the University of Rochester, who characterized the mechanism of aberrant mRNA turnover in human cells.
 Steitz was recognized for her contributions to understanding RNA biology. During her career, Steitz elucidated mechanisms of RNA processing and roles for RNA in transcription, splicing, and translation. Her group discovered processes that regulate RNA splicing and advanced our understanding of non-coding RNA. The award also noted work accomplished by Steitz as a postdoctoral fellow, during which she helped determine the basis of recognition between the ribosome and mRNA.
According to the prize announcement, "discoveries made by Maquat and Steitz have contributed critical knowledge about RNA's involvement in a range of cellular processes, including regulation of gene expression and protein production. These insights have, in turn, enabled the design and subsequent development of a range of therapies, including mRNA-based COVID-19 vaccines and treatments for spinal muscular atrophy and Duchenne muscular dystrophy."
In response to receiving the award, Steitz acknowledged the "rich environment" of Yale University.
"I am forever grateful for the amazingly talented undergraduates, graduate students and postdocs who have come to my lab, as well as for the support of colleagues both at Yale and internationally who recognized the potential of RNA," Steitz said.
A virtual symposium hosted by Harvard University in October will officially recognize Steitz and Maquat. Harvard and the Warren Alpert Foundation jointly issue.
By: Brigitte Naughton