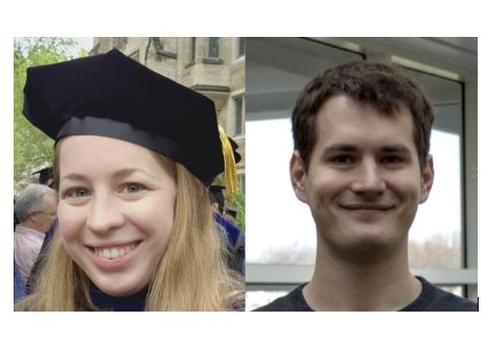 By Lisa Ogawa McLean:  Congratulations to Katie Farley-Barnes (Baserga Lab) and Brady Summers (Xiong Lab), as each were awarded the 2019 Mary Ellen Jones Dissertation Prize.  Since 2008, the Mary Ellen Jones Dissertation Prize has been awarded each year to the graduate student(s) that submitted the most distinguished dissertation in the Department of Molecular Biophysics and Biochemistry (MB&B).
Katie Farley-Barnes received her doctorate this year in MB&B in the laboratory of Dr. Susan Baserga. Her dissertation entitled "Discovery of new regulators of human ribosome biogenesis" presents her research on the process by which human cells make ribosomes, and to date has co-authored 2 reviews and 2 original research publications on this topic.
Brady Summers received his doctorate in MB&B this year in the laboratory of Dr. Yong Xiong. His dissertation entitled "Modular HIV-1 capsid assemblies for investigating diverse host recognition mechanisms" presents his research using protein engineering to reconstitute Human Immunodeficiency Virus (HIV), the causative pathogen of Acquired Immunodeficiency Syndrome (AIDS), capsid protein assemblies of defined compositions and complexities in solution. This work simplifies the natural heterogeneity found in native virus capsids and facilitates detailed mechanistic characterization of how the host immune system recognizes discrete aspects of viral particles.  To date, he has co-authored five original research publications on his discoveries, including two first or co-first author manuscripts currently in press.
Mary Ellen Jones received her doctorate in Biochemistry at Yale in 1951 and earned several honors and awards in her lifetime including the Yale University Wilbur Cross Medal and election to the National Academy of Sciences. More on Dr. Mary Ellen Jones and previous recipients of the dissertation prize can be found here: The Mary Ellen Jones Dissertation Prize.