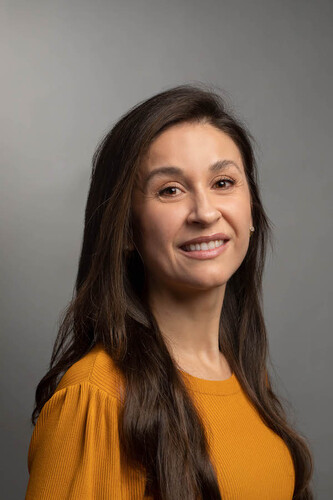 Congratulations to Dr. Luisa Escobar-Hoyos for receiving the prestigious National Institutes of Health (NIH) New Innovator Award. Dr. Escobar-Hoyos is one of seventy-two people to obtain this award, and among a pool of exceptionally creative researchers proposing high-risk, high-reward research.
The New Innovator Award, supported by the Common Fund, supplies $1.5M over five years to early-stage investigators who are within 10 years of their final degree and have not yet received significant NIH funding. With this grant, the Escobar-Hoyos lab plans to explore novel biomarker-based and targeted therapies for pancreatic cancer, an often aggressive and deadly cancer that is refractory to standard treatments and interventions. Their proposal seeks to reinvent immunotherapeutic approaches, by discovering "unconventional and unidentified mechanisms that regulate anti-tumor activity in aggressive cancers."  Specifically, they aim to explore specific RNA splicing alterations in T-cells, as well as a recently discovered embryonic transcription program that acts as a bacterial virulence factor. The grant work will include translational components, such as their patented oligotherapy and potential cancer vaccine.
In addition to this new grant, her lab is also supported by the Damon Runyon Foundation and career development awards from the National Cancer Institute and the American Association for Cancer.
By Shravani Balaji