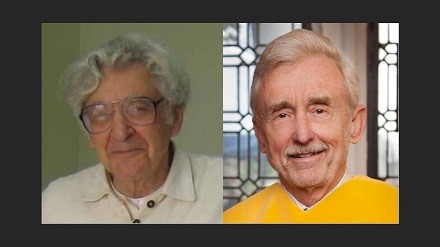 MB&B faculty members Alan Garen, PhD, and Thomas Pollard, PhD plan to retire this year. Garen has served as a Yale faculty member since 1963, coming to MB&B ten years after completing his graduate studies at the University of Colorado at Denver. Pollard came to Yale in 2001 following a presidency at Salk Institute for Biological Sciences and after fulfilling professorships at Harvard Medical School and Johns Hopkins University.
Pioneering research from Garen's lab found that certain mutations suppress tRNA activity. His group identified the stop codons 5'-UAG, 5'-UAA, and 5'-UGA that fail to bind amino acids. During a prolific career researching gene regulation, Garen found that a tumor-suppressor protein represses transcription through a DNA-binding domain and that a noncoding retroelement RNA acts to counter this mechanism. Garen's research interests encompassed questions involving embryogenesis, tumorigenesis, and steroidogenesis. He was elected as a member of the National Academy of Sciences and the American Academy of Arts and Sciences.
The Pollard lab applied biochemistry, biophysics, and microscopy to study the molecular basis of cellular motility and cytokines in fission yeast genetics. His group's accomplishments include the discovery and characterization of the Arp2/3 complex, which includes two actin-related proteins and seven novel subunits, as well as pioneering the analysis of myosin-II function in fission yeast cytokinesis. Pollard was Dean of the Graduate School from 2010 to 2014 and authored Cell Biology, one of the most widely used textbooks in the field. He is a member of the National Academy of Sciences and Institute of Medicine and has received numerous awards in his illustrious career. Pollard mentored dozens of graduate and post-doctoral students during his time with MB&B, including five current Yale faculty members.
Tributes for each can be found on the Faculty of Arts and Sciences pages:  https://fas.yale.edu/book/faculty-retirement-tributes-2021/alan-garen and https://fas.yale.edu/book/faculty-retirement-tributes-2021/thomas-pollard
By: Brigitte Naughton