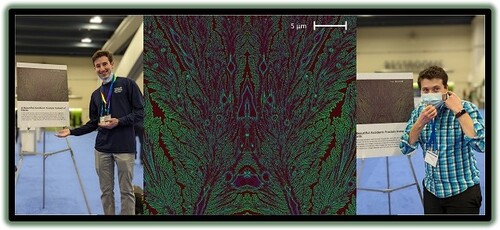 Two graduate students in the Levine Group, Bryan Bogin and Matt Steinsaltz, shared first place in the Art of Science Image Contest at the 66th Biophysical Society (BPS) Annual Meeting. The conference was held February 19-23 in San Francisco, CA.
Titled "A Beautiful Accident, Fractals Instead of Fibrils" the TEM image depicts Islet Amyloid Polypeptide aggregates. "In a fortunate accident," the description reads, the polypeptide left in PBS for 8 months "did not produce expected fibrils – as observed in other samples – but instead produced a beautiful fractal pattern." It was initially selected as top 12 contender for display during the annual meeting. Bogin and Steinsaltz shared the $500 prize sponsored by Chroma Technology.
According to the submission guidelines posted on the BPS website, "judging is based on scientific significance, originality, and artistic and/or visual impact of the images." The competition required that submissions relate to biophysical research and be generated using any imaging technique. Artistic submissions could also be generated by the combination of multiple images.
Congratulations to Bryan and Matt!
By Brigitte Naughton