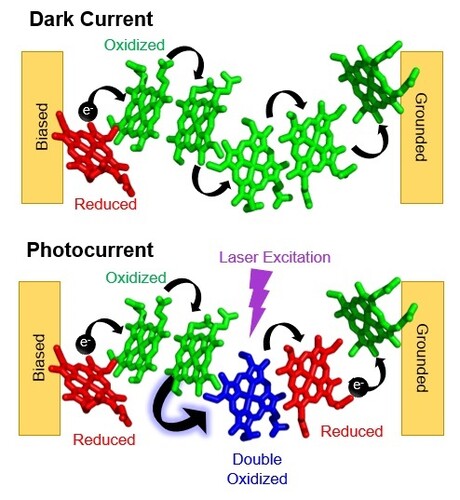 Members from the group of Nikhil Malvankar, Associate Professor of MB&B in the Microbial Sciences Institute, recently published results in Nature Communications which reported that nanowires of cytochrome OmcS function as intrinsic photoconductors in living biofilms. Titled "Microbial biofilms as living photoconductors due to ultrafast electron transfer in cytochrome OmcS nanowires," the paper contributes to meeting the demand for efficient and stable microbial catalytic photoconductive materials.
Led by postdoctoral researcher Jens Neu and graduate student Catharine Shipps, the study found that light dramatically stimulated electron transfer between nanowires of the metal-containing protein cytochrome OmcS, which forms natural nanowires in the photosynthetic bacteria of Geobacter sulfurreducens. Upon exposing the nanowires to light, the researchers recorded a 100-fold increase in electrical conductivity that persisted for hours.
According to the study, the nanowires exhibit "photoconductivity with ultrafast, sub-picosecond heme-to-heme electron transfer which could explain their influence on photocatalytic performance… These rates are among the highest for excited-state electron transfer in biology."
This work introduces a new class of natural photoconductors for whole-cell catalysis, which holds promise for efficient production of value-added chemicals, biofuels and biodegradable materials. The full study can be found in Nature.
By Brigitte Naughton