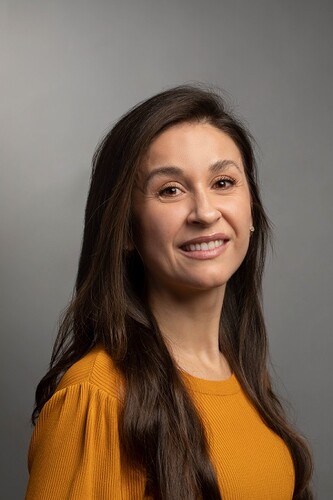 MB&B faculty and Assistant Professor of Therapeutic Radiology Luisa F. Escobar-Hoyos, PhD, was selected as one of seven recipients of this year's Damon Runyon-Rachleff Innovation Award. Dr. Escobar-Hoyos will receive two installments of $400,000 over two years to continue her study into "Understanding RNA splicing in tumor cell adaptation and anti-tumor immunity."   
The Damon Runyon-Rachleff Innovation Award is intended to fund early career scientists pursuing cancer research. It selects "thinkers with 'high-risk/high-reward' ideas who lack sufficient preliminary data to obtain traditional funding." Awardees are determined by a panel of scientists with cancer expertise, who select researchers with a clear goal for impacting cancer treatment.
Dr. Escobar-Hoyos joined Yale in 2020 with the goal of developing cures for pancreatic and lung cancers. Her group aims to understand mechanisms of disease and develop therapeutic strategies for targeting somatic mutations in tumors through the lens of aberrant RNA processing. She found that RNA splicing is critical in the progression of pancreatic cancer, and that certain splicing events lead to resistance to current therapies and suppression of anti-tumor immunity. Her research proposal aims to create an anti-splicing therapy that aims both to suppress tumor growth, as well as to promote an anti-tumor immune response.
Mandar D. Muzumdar, MD, an assistant professor of genetics, was also a recipient of this year's award. More details on the prize and other recipients can be found on the Damon Runyon page.
By Brigitte Naughton