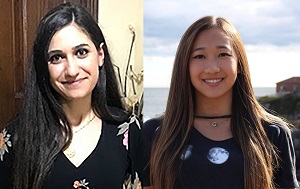 MB&B is extremely proud of our undergraduate students Rachel Jaber Chehayeb ('20) and Jessica Wang ('19) for their first- and second-authorship of "The GTPase-activating protein p120RasGAP has an evolutionarily conserved "FLVR-unique" SH2 domain." Their paper was not only published in the Journal of Biological Chemistry, but was also featured on the cover of the issue.
Scr homology 2 (SH2) domains are highly studied pTry-binding protein domains, and are found in many kinkases, phosphokinases, transcription factors, and other regulatory proteins. Usually, the arginine residue in the conserved FLVR motif of SH2 domains form a direct salt bridge with bound phosphotyrosine, but Chehayeb and Wang show that p120RasGAP coordinates phosphotyrosine via an unexpected alternative mechanism. Using X-ray crystallography and isothermal titration calorimetry, they show a modified binding pocket is responsible for coordination of phosphotyrosine.
Rachel Chehayeb is currently an incoming first year medical student at Yale, and has an author profile to accompany her paper in JBC. Jessica Wang is currently an Executive Specalist in Life Sciences at GQR Global Markets.
By: Jake Thrasher