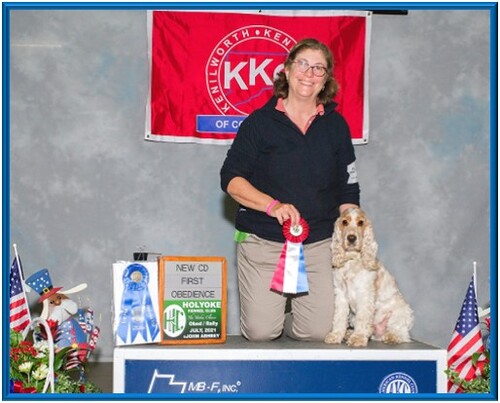 The American Society for Biochemistry and Molecular Biology hosted a Twitter chat with the authors of this year's wellness articles in their publication. The chat (#ASBMBWellness) was a live Q&A with various scientists, including MB&B's Susan Baserga, PhD, on what helps them stay grounded and brings them peace.
Dr. Baserga wrote an article, "Heel, Sit, Stay," for the January wellness issue of ASBMB Today. In her article, Baserga shares that during the COVID-19 pandemic, she began investing more time into her passion for dog obedience training. Since lockdowns and distancing slowed down work in the lab and limited the time she could spend physically in lab, she signed up for competitive dog obedience classes at Tails-U-Win, a large dog training facility in Manchester, Connecticut. She found that dog training gave her peace and community during the pandemic because she not only bonded with her dog, Webster, but also made new friends who were also involved in dog training. After months of training, Webster got his American Kennel Club Companion Dog obedience title in three trials- Two first places and one second place. After being involved with dog training for some time now, Baserga says "it has connected [her] to a new community during a worldwide pandemic — and to all the people who have loved their dogs throughout time."
For the twitter chat, ASBMB posed 8 questions and had their contributors and followers answer via tweets and threads. Below are a few of Dr. Susan Baserga's responses:
Q: In many of the essays, authors wrote about the challenges and painful moments that were the impetus for change. What challenges did you face and what was it like to be confronted with them?
Baserga: "The pandemic has been very isolating for me–from my lab and from the scientific community. Getting involved with fellow dog trainers helped my gain a new community!"
Q: In what ways has the pandemic affected the way you take care of your mental health and well-being?
Baserga: "For me I upped participation in my dog training hobby. But kept up with daily exercise all year round to help build resilience."
Q: How have you found support in navigating your mental health? Has connecting with others been helpful?
Baserga: "@SharonMilgram @NIH_OITE have taught me about resilience in myself and in my trainees. My psychiatry colleague, Steve Southwick, has written a great book "Resilience the Science of Mastering Life's Greatest Challenges" with former colleague Dennis Charney that is hugely helpful."
Check out Dr. Susan Baserga's article in the Wellness issue and follow her on twitter.
By Jake Thrasher