Learn about our offerings in undergraduate and graduate education in addition to our postdoctoral program.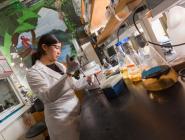 Introduction to the Undergraduate Program
Our undergraduate degree programs are well suited for students planning to attend medical school or pursue graduate studies in biochemistry, molecular biology, genetics, genomics, or biophysics. The MB&B major differs from the programs offered by the Molecular, Cellular, and Developmental Biology (MCDB) department in that MB&B places its central focus on studying biology using the tools of chemistry, physics, and biochemistry.
Yale University offers integrated and interdisciplinary opportunities for graduate study under the newly organized Program in Biological and Biomedical Sciences (BBS).  The Molecular Biophysics and Biochemistry (MB&B) Track at Yale is designed to prepare students for careers as independent investigators in the broad area of molecular and structural biology. The faculty members have diverse interests and are drawn from several departments, including Molecular Biophysics and Biochemistry, Chemistry, Pharmacology, and Genetics.
Since its founding in 1969 as the product of a merger between the Biophysics program on the central campus and the Biochemistry department at the Yale School of Medicine, the MB&B department has taken a special interest in structure and function of biological molecules. We seek fundamental new insights into the ways in which living systems function and evolve at the molecular level.