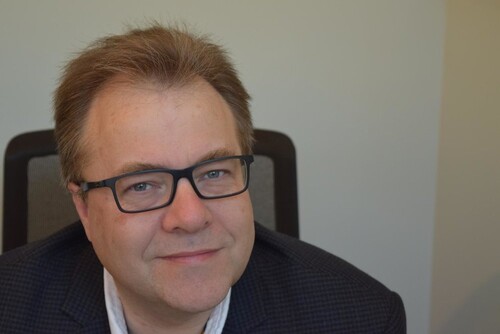 Mark Lemmon, Alfred Gilman Professor of Pharmacology, Deputy Director of Yale Cancer Center, and Co-director of Cancer Biology Institute, will become chair of the Pharmacology Department effective July 2023. Professor Lemmon received his Ph.D. from MB&B under the guidance of Donald Engelman, Ph.D., and serves as a secondary faculty member in MB&B.
In the Engelman Lab, Professor Lemmon investigated the basis and specificity of membrane protein interactions. He eventually turned toward studying the structure and dimerization of Epidermal Growth Factor Receptor (EFGR), a protein which remains a major focus of his group today. Following a postdoctoral fellowship at New York University Medical Center, Professor Lemmon joined the faculty at the University of Pennsylvania Perelman School of Medicine, where he served as chair of the Department of Biochemistry & Biophysics from 2008 to 2015. He was recruited to join the Pharmacology Department at Yale in 2015.
At Yale, the Lemmon Group aims to understand transmembrane signaling by growth factor receptor tyrosine kinases (RTKs), whose dysregulation is involved in cancer and other diseases. Specifically, the group applies cellular, biochemical, biophysical, and structural approaches to investigate how mutations in RTKs affect their molecular mechanism. The overarching goal of the Lemmon Lab is to link detailed mechanistic understanding to biology in the intact organism to advance the development of targeted therapeutics.
In addition to his active participation in mentoring, teaching, and directing, Professor Lemmon is on the Editorial Advisory Boards of Cell and Molecular Cell and is chair of the editorial board of Biochemical Journal. He was elected as a fellow of the Royal Society in 2016.
Professor Lemmon is assuming the position from his longtime collaborator Joseph Schlessinger, Ph.D., who served as chair for over two decades. As chair of Pharmacology, Professor Lemmon will recruit expertise in neuroscience, cardiovascular pharmacology, metabolism, immunology, systems pharmacology, computational studies, and chemical biology.
By Brigitte Naughton